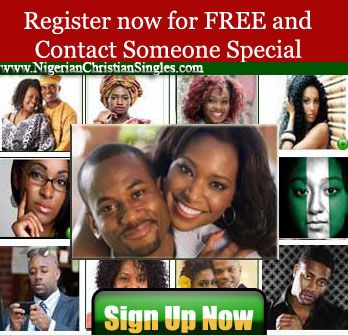 As the leading Christian dating site in Nigeria, we have successfully connected lots of Christian singles locally and internationally on this unique Christian dating site. And tens of thousands of Single Men and Women have met their soulmates on NigerianChristianSingles.com, and they all have been sharing their love testimonies with us. So, as a single and searching individual residing in Nigeria or abroad, It might be difficult for you to meet other single Nigerian Christians who are also interested in a friendship or relationship that might lead to marriage.
NigerianChristianSingles.com is bridging that gap between you and your potential life partner. We are a community of Christian singles mostly from Nigeria and all over the globe. Join Now and start chatting with Like minded Nigerian Singles. This platform makes it possible for you to find a Christian Love that has all the qualities you desire in a partner. Gone are the days when people go to clubs, bars, or coffee shops to search for a date. With the emergence of online dating today, finding love is very simple just with a few clicks from the comfort of your home you can find a perfect and suitable partner that has all the qualities you desire to see in your partner. We are 100% committed to connecting you and that perfect person, irrespective of where he or she may be from, within Nigeria or around the globe. Our dating platform is professionally designed in a way that allows you to easily search, find, and communicate with your desired partner through our chat rooms, instant messenger, and private messaging, with the purpose of creating a long lasting relationship between single Christians and with the hope of providing God fearing marriages. Start your own success story on Nigerian Christians dating site Today!
Not a Member yet? Sign Up. Create your free profile Now and start chatting with singles like you.

Online Dating Has Become More Popular These Days.
As the number of single men and women increases so is the interest to find a spouse. And more people are choosing to use the internet to come in contact with other singles. Close to 30 percent of Nigerian men and women has visited an online dating site at one point in time, and they all have exactly the same goal in mind which is to find love. That is why we are here to help you find your soulmate. Still want to explore more? Read More About Us